Overnight RV Sites Available
Located along I-75 between Dayton and Toledo Ohio, Glacier Hill Lakes is a 70-acre resort, with 368 campsites, many are pull-through. The community has a reputation as being one of the safest, cleanest, and most comfortable campgrounds in the greater Wapakoneta area and throughout Ohio.
Join our summer of fun! Our seasonal activities begin in April, ending with Halloween. Facilities include an activity  shelter/pavilion, swimming pool, splash pad and lake recreation are included in your camping experience.
***NEW IN 2023 – Pickleball court and high speed, reliable WiFi.
Wapakoneta is the birthplace and hometown of Neil Armstrong, the first man on the moon. Be sure to visit the Armstrong Air and Space Museum in Wapakoneta while you're here. How to say Wapakoneta.
High Speed, Reliable Wi-Fi for 2023 Available
Visit https://accessparks.com/ for details and to create an account.
Wapakoneta now has a DORA zone. DORA stands for "Designated Outdoor Refreshment Area" in which adults may purchase alcoholic beverages from approved restaurants and enjoy an open container of beer, wine, or liquor outside.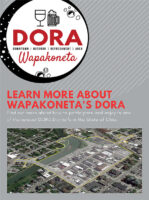 RVs and park models are welcome as well as tents and campers. Electric, water, and sewer are available. We do offer some primitive sites. Lots are available monthly, seasonally, or annually. Campsites are complete with security gates, laundry facilities, picnic tables and fire rings furnished, showers, dump station, and pets are welcome. We have a parts store, camp store, vending area, firewood, ice sales, propane sales and during the weekends this summer, we will have food trucks onsite. In addition to the pool and splash pad, there is a game room, large playground, basketball, volleyball, three horseshoe pits, two corn hole courts, two hillbilly golf courts, nine hole putter golf, lake swimming, fishing, shelter house, and community sponsored activities.
Overnight sites and short-term stays are available during the fall and winter. Credit cards accepted for monthly payments.
For seasonal and long-term stay information, please contact the office at 419-738-3005.
Management reserves the right to restrict the number of total day passes issued on any day or for any member. All guests that are not listed as one of your six original occupants will need to register with the office and pay the day guest pass.